When marketing your products online, you might find it challenging to determine the appropriate social app for your business. However, a quick internet search can reveal TikTok as ideal for your eCommerce business. Although TikTok is the newest famous social media channel, it can become the most downloaded application globally within a short period. In particular, this app has lots of in-app purchases and user engagement than other platforms, including Instagram and Facebook. If you engage in a dropshipping business, TikTok can be the best platform to promote it. Continue to read this article to uncover the ideal ways of dropshipping on TikTok in 2022
1)  Use paid TikTok Ads for dropshipping
TikTok has introduced several styles of Ads for paid sponsorship, including brand takeover ads, in-feed ads, branded hashtag challenges, and branded effects. In this case, the clients with the budget will enjoy visibility and notoriety gained through paid ads. In contrast, smaller businesses view that as an unlevel playing field.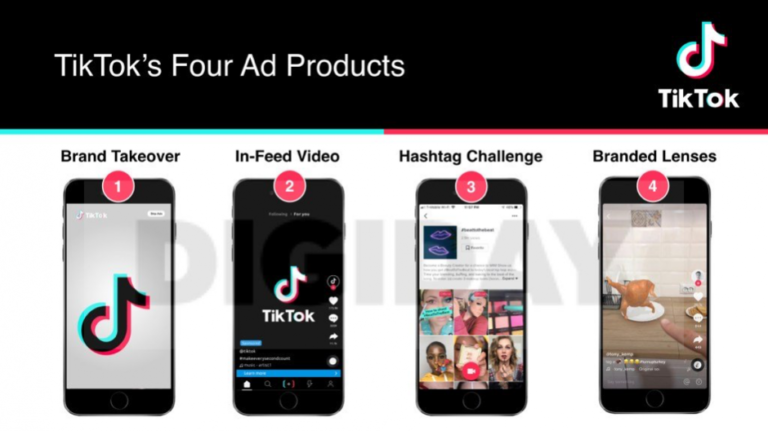 When establishing ads, TikTok content provided the following requirements:
Ad Description: A maximum of 100 characters without emojis
Brand name: maximum of 20 characters
Video duration: 5 to 60 seconds
Video resolution: 1280×720 pixels, 640×640 pixels or 720×1280 pixels
Image resolution: recommended 1200x 628 pixels
Aspect ratio: 1:1, 16:9 and 9:16 (vertical)
Video files: AVI. 3GP, MPEG, MOV, MP4
Image files: PNG or JPG
For most drop shippers, the most attainable option is using a simple in-feed. You can use this quick ad to showcase your products creatively and engagingly to increase your leads. Although TikTok charges $10 per 1000 impressions, it provides at least $500 marketing spend requirements.
2) Partner with influencers
Influencer partnerships have existed in online marketing for several years. However, most influencers have continued to find new success because of the video-centric platform. Instead of dedicating resources and time to establish compelling captions and photo content, influencers can efficiently and quickly create good video content. Although you can take time to make such videos, TikTok users expect more authentic and creative content.
Partnering with TikTok influencers provides you with the best opportunity to attract customers to your dropping business. When attempting this strategy, you need to find influencers who work with your brand values and niche. Also, you will want to reveal your guidelines and terms concerning your agreement. Most importantly, you need to allow the influencer to use their unique approach and voice when establishing ad content. In reality, it is the influencers' brand that will resonate with your target audience.
You can find influencers that align with your brand through the TikTok Creator Marketplace. Such a platform houses several TikTok creator profiles, and drop shippers can filter them to get the ones that fit their audience. Admittedly, when dropshipping on TikTok, the Creator Marketplace offers insights regarding the influencer's audience, including sample work, trending graphs (engagement and followers), content performance ( shares, comments, and views), and audience breakdown.
3) Begin and participate in Hashtag challenges
You are not compelled to have a paid sponsorship to participate in hashtag challenges. You only need to establish your own branded hashtag challenge with informal and organic marketing efforts. When you use a branded hashtag challenge, it can assist you to engage your prospects and promote user-generated content that plays two invaluable roles in marketing ( shareable content and social proof). Also, be ready to showcase your dropping business under a trending hashtag challenge. Remember to work with brands related to your business to reshare and cross-promote content to boost sales in your TikTok dropshipping store.
Apart from posting consistent content, you need to use simple hashtag challenges relevant to your target audience.
4) Create a cross-platform strategy
You might be fortunate if you have an established social media presence on other social media platforms. Most markers use their Instagram to establish their TikTok following and vice versa. That approach works especially among drop shippers with product-based offerings. You need to consider how you will re-use and share your content on other platforms after creating it. Also, consider how you can drive traffic from other platforms to your TikTok account. Although it might appear redundant to have the same followers on all your platforms, you will establish a touchpoint to help engage and connect with the ideal audience. Such repetition will demonstrate brand awareness and familiarity and lessen the chances of your potential customers missing the message.
5) Switch to a Pro or business account
After creating your personal TikTok account, you can switch to a business account. Apart from managing to sell your products, switching to a business account will allow you to do the following:
Web business suite: Access TikTok dropshipping for business insights, view content creation tips through a creative business hub, and download analytics data
Commercial music library: You can access a library of more than 150,000 royalty-free, pre-cleared sounds, which you can employ for commercial purposes
Business content guide: You can receive advice on several marketing aspects, including picking a sound and selecting a video topic
Audience and performance data: You can get insights regarding what your audience prefers in terms of content.
6) Create an engaging content
Although TikTok focuses on creativity and fun, this platform offers a valuable platform for sharing informative content. That means you can create content that assists the lead in transcending from the sales funnel, moving from the decision to the transaction phase. After you have connected your dropping store to your TikTok account, you need to become creative in promoting your products. In reality, it might appear overwhelming initially, but when you look at the Discover tab in your application, it can assist you. In this case, you view the trends, search the keywords related to your business or brand and look at what is going viral. The following are the ideas to help when creating content:
Use trending music when creating videos.
Come up with the hashtag challenge of your brand and encourage users to join. Ensure the hashtag is memorable and easy. Share a tutorial or educational video and ensure to do that in an understandable format.
Join in a vital craze or special occasion
Run a marketing contest.
To Sum Up
TikTok is a visually driven and intriguing platform for drop shippers to showcase their products and establish solid customer relationships. TikTok has found an opportunity for brands to connect with new demographic clients and embrace the video marketing strategy. Marketing involves establishing connecting, using passive sales techniques and brand awareness to drive conversions. Therefore, by employing the above methods, you can grow your TikTok dropshipping business in 2022.