Dropshipping is an ideal way to get started in the e-commerce world. However, to succeed in this market, it is imperative to consider factors such as selecting the right products and the right price. This article discusses some of the best dropshipping product research tools that will make the researching of new products very streamlined.
What is a Dropshipping Product Research Tool?
A dropshipping product research tool is imperative in the dropshipping business, and experienced entrepreneurs must incorporate this tool. It is essential to note that businesses that rely on research tools will dramatically grow and become competitive.
With a good research tool, you can take advantage of the following:
Access important data about profit margins, prices of products, and competitors
Establish the hot and trending products and some niches that are in demand
Make some data-driven decisions that will increase your profitability
Some of the best product research tools available in the market include: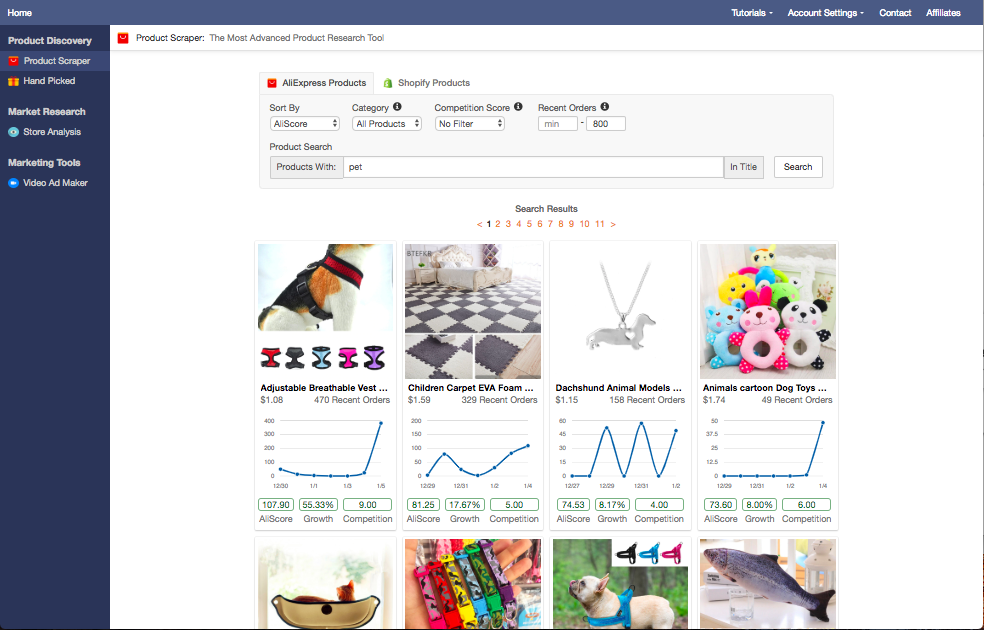 It is a leading product research tool for experienced and beginner entrepreneurs in dropshipping. The tool works incredibly to help find winning products and various profitable niches on eBay, Shopify, and Amazon.
It is a powerful dropshipping research tool that allows you to spy on Shopify sites and investigate some of the most guaranteed winning products. By incorporating this tool, you don't have to manually search for millions of products online on AliExpress or Shopify.
The tool helps to sort products based on some factors such as:
The category of the product
Keyword
Recent orders
Price
Competition score and growth rate
The tool also offers a list of winning products that are manually added on various e-commerce platforms. Some of these products are handpicked on Facebook ad examples or suppliers.
Additionally, it also offers competitive research data. By incorporating the Store Analysis Feature, you can spy on other e-commerce stores and find their competitive items, sales estimates, and traffic data.
Sell The Trend
Sell The Trend is a fantastic dropshipping product research tool that contains different tools. It is described as an all-in-one dropshipping tool for entrepreneurs. The tool has an advanced algorithm that helps to search various ecommerce stores. It helps to see how many orders a specific product is getting, the nature of competition and the product is doing well in which countries. It also helps to analyze the Facebook ads metrics.
With the tool, you can identify the winning products on e-commerce platforms such as AliExpress, Shopify, Amazon, among others. The manufacturer of these tools offers a 7-day free trial for entrepreneurs.
Product Mafia
Product Mafia is another fantastic dropshipping tool available in the market. This tool offers an intuitive and robust online product search for entrepreneurs who are dealing with dropshipping products. It helps you access winning products and provides comprehensive analytics about them. It also has an ad hunter that is very useful for marketers in finding and creating winning ads for your brand.
Ideally, the research tool will help in manually adding winning products to the platform. It makes it very streamlined to search for profitable products and add them to your store. What makes it outstanding is its compatibility with Shopify and WooCommerce.
Some of the information you can get from the tool include:
Profits such as net profits, profit margins, and CPM
Analytics such as sources of products, reviews, orders, among others
Engagements
Copyright information
Recommended influencers
Thieve. co
The Thieve is another essential dropshipping product research tool. It is mainly used to find out what are the trending products on AliExpress. Ideally, this tool is used by an average of 350,000 dropshippers.
The tool offers winning products that are handpicked by experts and scrutinized for quality before being published. Thus, these products are not selected by Al powered algorithms.
This tool is outstanding because it allows the dropshipper to skip the tedious search and move directly into selecting premium products. It helps you to find the most appropriate products to dropship. It helps select products based on popularity, conversion rates, star rating, price ranges, and current sales.
Ecomhunt
Ecomhunt manually identifies the winning dropshipping products and adds them to the platform. It is a powerful tool since it uses recent data about products. It is imperative to note that the products are usually handpicked by ecommerce experts.
The platform is quite convenient as it updates new products daily. Also, it has a significant emphasis on the quality of the products to ensure that entrepreneurs get high-value products.
The tool selects its products depending on various metrics such as selling price, profit margin, analytics, and engagement. It also provides training on dropshipping and tips to achieve higher sales.
Zik Analytics
Zik Analytics is an essential dropshipping product research tool for drop shippers and markets. The tool helps identify the most competitive and valuable products to sell on AliExpress and eBay.
If you are a dropshipper, you can use the tool to search for winning products from over a million products. Using the tool, you can discover the best products that you can sell on eBay and identify the best keywords. You can find products that have a large sales volume and demand. You can also search for some analytics, such as top suppliers and countries that sell those products.
AliShark
The tool helps to find winning products that you can dropship. With the tool, it is possible to access some analytics about trending products. It provides live results by frequently updating the product hourly.
With the tool, it is possible to see the number of orders and product sales history. You can also gain access to other crucial information such as product reviews, pricing, and countries that sell that product.
Other dropshipping tools you may interest in:
Key Takeaway
The dropshipping product research tool is the future of the dropshipping market. It helps your business have a competitive advantage and have analytics on the type of products you should sell. You can have a rare chance to spy on other e-commerce stores and gain insights into winning dropshipping products. Take advantage of some free product tools and take your dropshipping business to another level.