Customer loyalty is one of the most crucial factors for a business's success. This is especially true when it comes to eCommerce businesses since it's cheaper to encourage existing clients to buy your services again than look for new ones all the time. Customer retention is necessary to make sure that your business is on the right path and helps secure its growth and success.
It's simple: the secret to customer loyalty is an efficient loyalty program. Loyalty programs are considered one of the most effective marketing tools for eCommerce companies. But to ensure its effectiveness, you'd have to stick to a loyalty management tool that's compelling enough to entice and encourage customers to purchase what your store offers.
An appealing rewards program reinforces clients' interest in being loyal to your brand and actually drives them to keep coming back for more. If you're planning to begin a loyalty program for your own eCommerce store, you're on the right page.
Thankfully, there are several loyalty programs initiated by many online stores nowadays. But the major factor behind a loyalty program's success goes beyond rewards; instead, it prioritizes the improvement of customers' overall shopping experience.
To start a loyalty program, you'd need the aid of the best loyalty program apps that helps you achieve this. That said, we've listed some of the most reliable Shopify apps that can best suit your brand's needs.
1. Stamped.io
Stamped.io is a top-rated Shopify app that lets you make compelling reward programs tailored to improve sales and customer retention. Specifically, it allows business owners to create three kinds of programs such as the Hybrid Program, the VIP Tier-based program, and the Point-based program. The Hybrid program is the more inclusive type and is a combination of both the tier and point-based programs.
What makes Stamped distinct from other loyalty program apps is that it operates on a reward system where customers can obtain rewards or even loyalty points for certain actions like purchasing, reviewing, or rating products, sharing on social, and more. You also have the discretion to reward your loyal customers with various options like gift cards or free shipping discounts.
Stamped is a flexible and versatile program that offers complete mobility regarding rewarding options and what you want to reward your clients for.
2. Growave
Growave is considered one of the best Shopify apps for those who want to create a loyalty program for their brands. The wonder with Growave is that it's an all-inclusive tool that offers review features, wishlists, and loyalty programs all in one. It also lets eCommerce owners customize their VIP and Point-based loyalty programs for their own store however they want.
This app's point-based program lets clients obtain rewards according to their accumulated points. On the other hand, the tier-based one allows you to encourage your clients to gain more points to rhea to the next tier, thus acquiring better offers and rewards than usual. What's great about Growave is that there's no limit to making VIP tiers – you can create as much as you want.
Not only that, but it also cultivates users' engagement with your services via constant email reminders to join your brand's loyalty program, reap the rewards, and redeem points. Growave is perfect for business owners who aim to scale up their eCommerce brand by building on a loyal base of customers.
3. ReferralCandy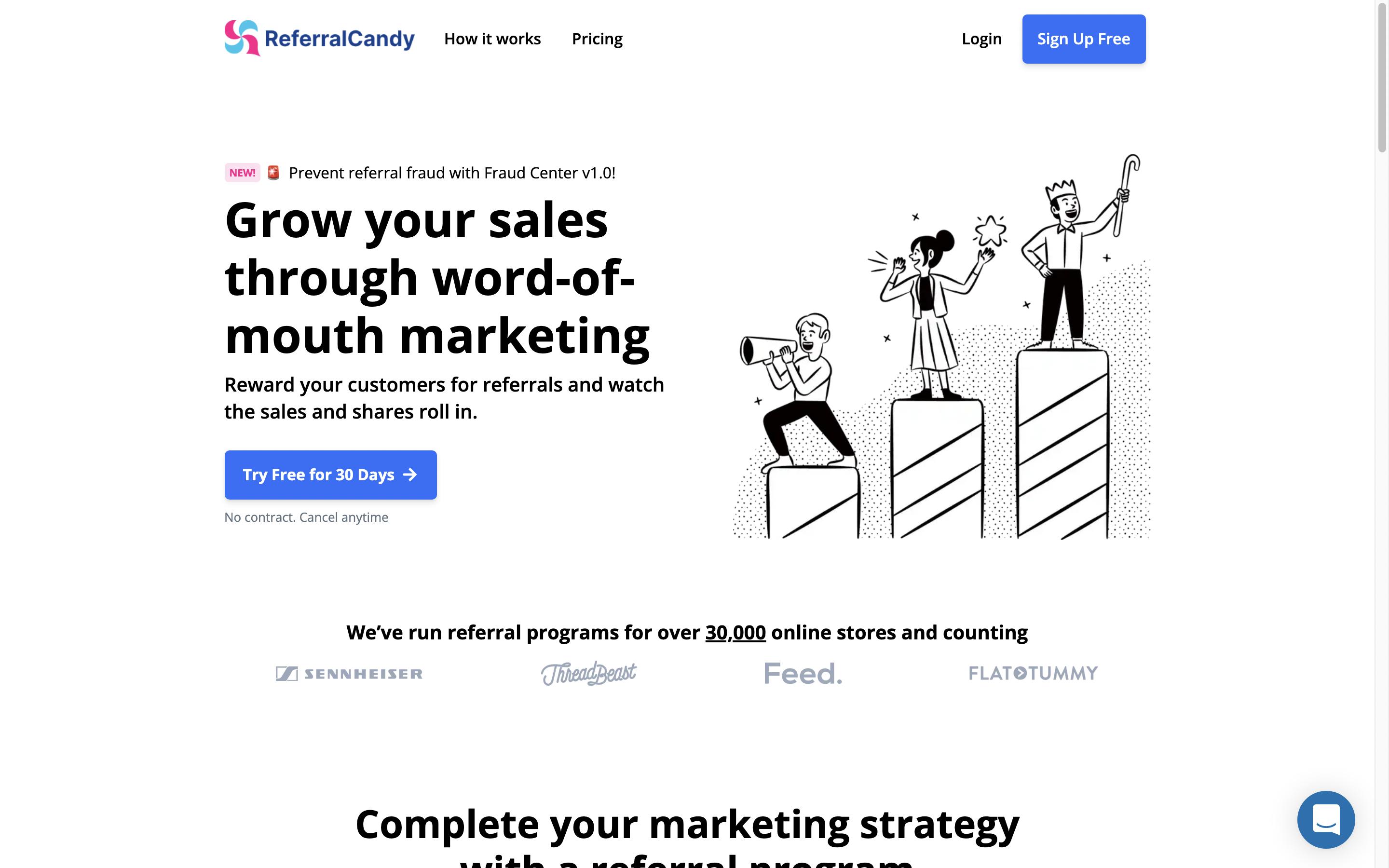 If your main priority is growing your existing customer base to gain more prospective clients, you can use ReferralCandy and make them brand ambassadors instead. Unlike other loyalty program apps, ReferralCandy distinguishes itself by allowing you to take advantage of word-of-mouth marketing and customer referral promotion.
This works in such a way that you can give rewards to customers who were able to successfully refer your company to their friends, relatives, or family. You can opt to give them various reward options like percentage or shipping discounts, gifts, cash incentives, or free items upon the next purchase. The decision is all up to you.
ReferralCandy is also equipped with an advanced fraud-identification system that verifies these referrals and rejects rewards automatically. This feature takes out the burden of manual checking while cutting down costs and expenses.
4. Marsello
Marsello is a simpler loyalty program application. This is especially suitable for business owners who are currently in the process of creating a sales strategy for their eCommerce stores.
This app basically improves your revenue by sending out automated and on-time SM, emails, and loyalty programs to clients that help boost site traffic while significantly bumping up your overall conversion rates. When making a loyalty program, you can motivate your clients to create product reviews, give points for other reviews, or make frequent purchases.
Its drag-and-drop builder also lets you make conversion-friendly and excellent email campaigns for your brand. Otherwise, you can build on your contact list through capture forms and prioritize shippers' sentiments by getting due feedback from your customers. Another one of its impressive features is that it utilizes AI to recommend products for your clients. Marsello assists in detecting what kind of services or products your customers are buying; it then utilizes the algorithm to curate the best products that are typically purchased.
5. Smile.io
Smile.io is among the highest-rated Shopify applications that mainly encourage customers to make repeat purchases while improving customer loyalty through efficient loyalty programs. Like other apps, it lets you make tier and point-based programs as well.
Smile's intuitive and seamless editor allows you to incorporate logos and stop-scrolling banner photos. You basically have the complete authority to make certain tweaks or alterations to your program, provide insights or manage rewards that help stimulate conversions and leads.
This loyalty program offers transparent records, given that it accommodates wider customer participation. This allows you to monitor and keep track of the referral URLs, points balance, and history of rewards. Smile operates such that you'll have a more convenient way of keeping in touch with your customers while also getting to know the extent of how efficient your program is.
Also read:
Conclusion
It's important that you constantly upgrade your loyalty and rewards program if you want to ensure a stronger customer loyalty base for your eCommerce brand. By implementing effective programs through the Best Shopify apps, you're able to achieve optimum engagement alongside improved conversion rates and sales.